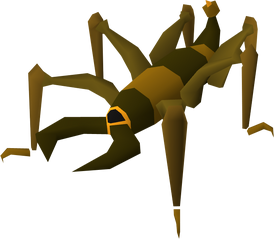 Fresh Crawlers can be found in the Stronghold of  Security cave located in barbarian village on the second floor.
x3-7 Iron Ore (noted)
1 Iron Ore (Unnoted)
Unids
Fire Rune (x42) Might Vary
Dust Runes
Iron Ore
Coins (63gp) Might Vary
Nature Runes (x5) Might vary
Body Runes
Silver Bar
Sceptre Bottom
Bones
LVL: 28 and 35
Good source of money for mid-lvl players.
Alot of people kill, so you might have to world hop to find a good world.
Ad blocker interference detected!
Wikia is a free-to-use site that makes money from advertising. We have a modified experience for viewers using ad blockers

Wikia is not accessible if you've made further modifications. Remove the custom ad blocker rule(s) and the page will load as expected.